Brick cladding refers to the outwards facing surface of a building or wall made from brick. Unlike whole bricks, brick cladding is merely the 'face' of a brick and usually does not stand any weight so, therefore, does not play a role in maintaining the stability of a structure as whole bricks would. For this reason, it is not advised to use brick cladding in seismically active areas, where bricks could collapse during an earthquake. However, brick cladding does serve other important functions.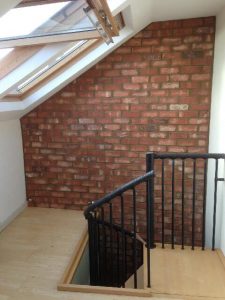 Made up of 'brick slips', which are solid tiles used to simulate the look and texture of brick, brick slips are also known as 'thin brick', 'brick veneer' and 'brick tiles'. It goes without saying that brick slips for external brick cladding such be much tougher than their indoor counterparts.
Brick cladding provides perfect protection to any commercial or domestic building. One of its purposes is to be water resistant, preventing moisture from reaching the internal framing of a structure, significantly cutting the risk of damp and mould spreading inside the property.  Water can soften and weaken the timber structure of a building, damaging the wood, but brick cladding ensures water stays on the outside so you stay warm, dry and comfortable on the inside.
Brick slips can also provide some impact absorption from high winds and collisions with objects and a degree of insulation. The many layers of a building's structure are partly intended to trap air and heat, serving as a great insulation solution. The more layers of insulation, the less central heating is required because there is already insulation integrated into the building.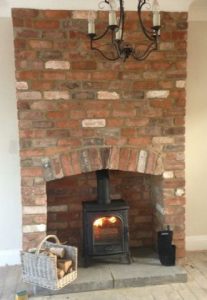 Being the visible part of a wall or building, brick effect tiles can be pleasing to the eye coming in a range of elegant patterns, attractive textures and creative designs. In terms of interior design, the exposed brick style of a classic New York loft or apartment is very trendy, as is having contemporary brick cladding splashbacks in kitchens, following the recent rise of brick cladding in kitchens regularly seen on popular cooking programmes. Available in a variety of colours and sizes, brick effect tiles are ideal for framing fireplaces too.
We only supply brick cladding made of real brick, however, some companies produce faux or synthetic brick slips, which are a good option for areas where brick construction is not recommended and a cheaper alternative, but may not be as convincing as the aesthetically pleasing brick slips we supply.
To make a statement with elegant brick panelling and cladding in your property, contact our friendly team at Northern Brick Fabrication Ltd today.