A brick arch can contribute unlimited elegance or subtle style to a domestic or commercial property's interior or exterior depending on how decorative you choose to make it. Either way, a brick arch can prove to be a classic focal point and radiate special sophistication and visual appeal, adding a unique period look to any building or room.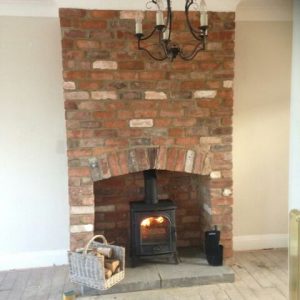 We supply all the durable cut and bonded brick types designed to construct a brick arch and voussoirs. Voussoirs are the wedge-shaped stones used to build a brick arch. They are tapered stones which means they narrow and gradually lessen in thickness towards one end.
A brick arch also requires a lintel, which creates structural support as it stretches horizontally between the two support columns of an arch, such as an archway that frames a fireplace. Where fireplace arches are concerned, brick lintel is often employed. Being fire resistant and robust, brick lintel has all the hallmarks of a strong and stable fireplace arch. Brick lintel is also attractive coming in attractive designs. Brick lintel has the important role of reallocating the pressure generated by the weight it is supporting to the support columns of an arch, minimising the risk of the brick arch collapsing.
A brick arch can elevate your home to being the envy of all your friends and family who come to visit or, in commercial properties, create a great first impression and aesthetically pleasing talking point to visiting clients and leads, being memorable and ensuring they want to come back, if only to admire your brick arch again!
For your convenience and ease, some companies also provide prefabricated brick arches which are constructed off-site. Prefabricated brick arches are just as elegant as other arches but are more cost-effective. Other businesses offer the service of accurately and carefully replicating and restoring brick arches in historical or listed buildings.
Brick arches have no doubt risen in popularly in recent years and can complement and match existing brickwork. We offer brick types such as 'Cant' and 'Bullnose' bricks which offer a range of arch-span sizes so you have plenty of freedom to choose. 'Cant' bricks produce what is known in the industry as 'chamfered' features, while 'Bullnose' bricks have curved faces. 'Chamfered' is simply a term that means to cut away a right-angled edge or corner to that allow neat symmetrical sloping vertical and horizontal edges.
To add something special to your property with a brick arch or voussoirs, contact our friendly team at Northern Brick Fabrication Ltd today.